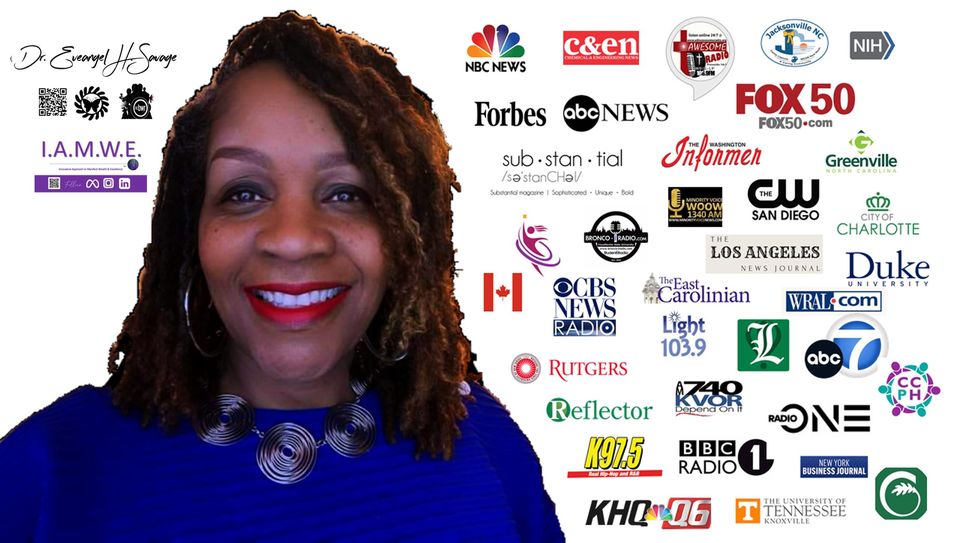 Guiding Prupose Driven Well-Being Through Transformative Leadership
Discover the secrets of a purpose-driven leadership in entrepreneurship. Every successful leader has a unique journey filled with ebbs and flows of life. They, too, have faced life challenges. They turned their challenges into opportunities to transform their lives and the lives of those they are called to serve.
Leaders like Dr. Eveangel H. Savage understand the power of lived expert stories that have influenced leaders to serve on purpose in community. She has spent 30-years studying social issues and how those issues impact community with goal of innovating solutions. Dr. Eve is an authority of Community Health & Human Service Education and Qualitative Researcher. She has the gift of building the capacity of community to connect and maximize their wealth and excellence with the confidence to influence purpose in others. She strategically centers the use of technology in practice to extend services throughout the world. ​​​​​​​
​​​​​​​
With 60+ years of life experiences, she developed a rock-solid value system, and a mission to celebrate human social value that ensures those leading in service to the community have the access to education and support needed on their journey beyond. Thank you for your service and welcome to a community that helps you unlock your potential and rewrite your narrative and pathway to help others. ​​​​​​​
​​​​​​​​​​​​​​​​​​​​​​​​​​​​

Global Impact
​​​​​​​In 2014 Dr. Savage developed an online blackboard platform for entrepreneurs to grow and learn. With her rich history as a distance learner and academician she understood distance education from both perspectives. She was able to advance this expertise to launch Audacity Leadership Institute (A.L.I.)
​​​​​​​
In 2015, her research was published on the important of access, education, and social support for change. Her pioneering research, . Facilitator Perceptions of Mobile ACCESS for Social Support in Addiction Relapse Prevention"​​​​​​​ has laid the groundwork for online social support.

In 2019, Dr. Savage took her studies abroad to the Middle East with the question of "What does it mean to be free?" and discussion of Nothing Shall Be Wasted in Tear the Veil travelling to all 4 points of the world.
In 2020, Dr. Savage filled the gap to of using online social support theory across economies to address the social determinants of health. The new flagship program, Innovative Approaches to Manifest Wealth Excellence™ (I.A.M.W.E.) infuses online social support from theoy to practice in in online and offline communities, empowering agents for change to serve and earn in wealth and excellence.

​​​​​​​
​​​​​​​​​​​​​​
​​​​​​​​​​​​​​

In 2023, the three-year pilot served more than 87,000 people. The multisectoral, research based, community-led initiative has worked with 33 organizations in 25 U.S. regions reaching 60 countries, to reduce the risks associated with the social determinants of health. Her expertise is celebrated in top-tier media outlets like CBS, NBC, ABC, Forbes, and more. As an International Best Selling Author, Speaker, Consultant, and Coach, she's a force for innovation in "Preparing For Your Season of Elevation."
​
now available in E-Version for small group discussions.​​​​​

​​​​​​​​​​​​​​We invest in our well-being. Experience the power of our mentoring, consulting, coaching, and leadership training that merges the myriad of ways you can build a winning portfolio as an entrepreneur, author, speaker, contractor, philantropist, investor--you can be whatever you want to be. The choices are unlimited. Dr. Savage's approach uses peer group online social support theory to practice in offline communities to supercharge your business for the well-being of those you are called to serve. ​​​​​​​

Here's what you can expect to master your domain:​​​​​​​
​​​​​​​

Tailored Strategies to understand your unique seed to produce fruit using a customized plan and market research strategy to help you reproduce for optimal results.

Seamless Integration to guide you in integrating your business model smoothly, incorporating wealth strategies to drive scalable growth.

Enhanced Engagement to foster engagement and collaboration in a supportive community that understands the importance of well-being as the highest form of equity.

Amplified Learning: Dive into topics such as strengths, leadership development, group processes, story telling, and more while considering scalable investment strategies.

Sustainable Growth: Ensure long-term success with on-going access, education, and social support and resources that encompass both well-being and investment principles.​​​​​​​

Ready for Growth? Contact Us Today!
Let's embark on a journey of growth and excellence. Reach out for a purpose listening session to explore how our services can support as you redefine your business with well-being methods and scalable investment strategies.
Unlock the full potential of your business model and become a catalyst for transformational social change. Revolutionize your business model. We are all on the journey beyond.
​​​​​​​
​​​​​​​​​​​​​​
​​​​​​​
​​​​​​​​​​​​​​

Copyright 2023 | Dr. Eveangel H. Savage LLC ™